Home

|

Shop

|

Beauty

|

Makeup

|

Face

| Magic Minerals Self-Correcting Mineral Powdered Set w/ Built-In Colour Correctors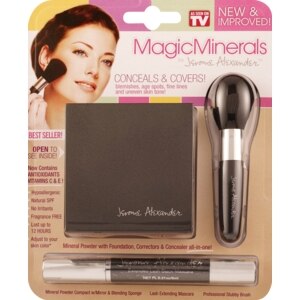 Magic Minerals Self-Correcting Mineral Powdered Set w/ Built-In Colour Correctors
Set Includes: 1 mineral powder; 1 professional quality stubby powder brush; 1 full size lash extending mascara; 1 blending sponge. Foundation, corrector and a concealer all-in-one! Pink - Brightens and give you a healthy glow!
Mint - Makes redness disappear!
Yellow - Conceals dark circles!
Lavender - Transforms yellow skin!
Fragrance & talc free! Look flawless. No mess. As seen on TV. Look flawless. The all-in-one cosmetic breakthrough! This pressed powder is the only self-correcting mineral powder that has built-in colour correctors! It's a foundation, a corrector and a concealer all-in-one!
Plus it's self correcting, gives you flawless coverage and brightens you complexion, without harming your skin. Micronized mineral powder. Glides on and doesn't get caught in wrinkles, line and creases around the eyes, nose and mouth. Added coverage with correctors and concealers. Fragrance & talc free. Compact with a mirror inside the cover. Professional stubby brush. Includes blending sponge. Lash extending mascara extends lashes up to 50% longer and 4x their natural thickness.
Green Packaging: Green Blister patented sustainable package by Green Packaging Asia. Recycled paper (50-65% post-consumer) - 100% recyclable. Recycled RPET plastic (100% post-consumer) - 100% recyclable. Zero-residue water based glue. Vegetable based (soy) inks. Give your planet a little love. Please separate paper and plastic and recycle this package. Made in China.
Magic Minerals Powder: Kaolin, Mica, Squalane, Petrolatum, Magnesium Stearate, Ethylhexyl Palmitate, Methylparaben, Propylparaben, CI 77891. Black Lash Extending Mascara: Aqua, Sodium DNA, Cellulose Gum, 1,2-Hexanediol, Caprylyl, Tropolone, Biotin, Phenoxethanol, Glycerin, Potassium Glutathione Isomerised Linoleate, Potassium Chloride, Butylene Glycol, Myristoyl Pentapeptide.
To Use Magic Minerals Powder: apply liberally over your entire face with the included Stubby Brush. After applying, buff vigorously to set the make up for a flawless look! To Use Black Lash Extending Mascara: Place the brush at the base of lashes and gently sweep up to the tip. Remove easily with soap and water.
For external use only. Do not use on areas of broken or sensitive skin. Do not use on puncture wounds, animal bites or burns. Keep out of the reach of children. If product causes irritation discontinue use.