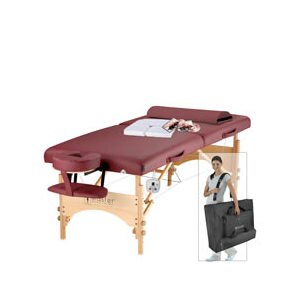 Master Home Products 28 Inch Geneva Therma-Top LX Portable Massage Table
28 Inch Geneva Therma-Top LX Portable Massage Table Package
Built-In Heating System! Regulation Size!

Our patented UL Tested built-in warming system Therma-Top is EMR (Electro Magnetic Radiation) SAFE. The Therma-Top is far more sanitary than any warming pad as pads can get "yucky" from oil and sweat build up over time and are a hassle to handle. The Geneva is the perfect 28 in. x 84 in. size with 2 in. foam. The Adjustable Face Cradle with plush pillow gives you maximum comfort keeping your clients coming back. It's another high-end, long lasting, safe Massage Table investment by MASTER.
Package Includes:
Leg Comfort Bolster
Carrying Case
Adjustable Face Cradle with Pillow
Arm Shelf, strong, thickly padded, for client comfort
75 soft micro fiber disposable face pillow covers
A Walk with Nature Massage Mood CD Set
Features:
Patented UL Tested Built-In EMR SAFE Warming System provides adaptable warmth over the entire surface of your table
For your safety, the frame and bed plywood is CARB Compliant (No Formaldehyde or Carcinogens used)
Supports: 1,000 lbs.
Auto-Lock leg system sets up strong in seconds
2 Inch thick cushion of Multi-Layer Foam (more dense than other massage table foams)
Maroon Upholstery is strong yet soft to the touch, oil & waterproof, emits no toxic odors
Northern Hardwood Legs with Dura-Seal protection
High-End Furniture Finish, Natural
Numbered leg adjusting holes for accurate and easy height adjustment
Non-skid, non-marking foot pads keep the table in place (not hard plastic like other tables)
Duo-Plane center hinges assure fantastic strength at the table center
Nylon leg buffers keep the wood legs squeak and wobble free
Leg-brace stabilizer bar adds strength and aids table opening and closing
Unbreakable Clevis block leg attachments guarantee rigidity
Soft-touch leg-lock knobs for easy grip, safety and stability
Warranty: 5 year
Specifications:
Dimensions including face cradle (W x L x H): 28in x 84in x 22.5in-33in (adjustable height)
Table Weight: 30 lbs.