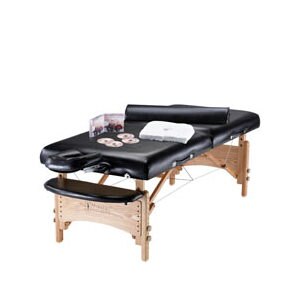 Master Home Products 32" Olympic LX King Size Massage Table Packag
32 Inch Olympic LX King Size Massage Table Package
Double Thickness, Legs of Ash Wood& Can't Break! Perfect for LARGER clients! Supports 3,200 lbs!

Our Widest table! Built from Solid American Ash (Baseball Bat Wood) with a Double Thickness Deck the Olympic LX is all about Revolutionary Size & Strength! It's Luxurious too! The cushion is 3 Inch of our thick Multi-Layer foam Olympic including a perfect layer of Memory Foam.
At 53 lbs. the Foldable is slightly heavy as a portable table, but is the Strongest and Most Comfortable table made for ANY client. It's a real high-end, long lasting, Safe Massage Table investment by Master!
Package Includes:
Matching Leg Comfort Bolster
Carrying Case with four pockets for accessories and the bolster
Face Form Sculpted Ergonomic Dream Adjustable Face Cradle and Pillow
Contoured Arm Rest Shelf, strong, thickly padded, for client comfort
75 soft Microfiber Disposable Face Pillow Covers
A Walk with Nature Massage Mood CD Set
Features:
Double Thickness Deck (Normally Unheard Of - But We Do It!)
The frame and bed plywood are CARB Compliant for your safety (No Formaldehyde or Carcinogens used)
All frame and leg parts are OVERSIZED for awesome strength
Supports: 3,200 lbs. (1451.5 kg)
Auto-Lock leg system sets up in seconds
3 Inch (7.6 cm) thick cushion of Multi-Layer Foam including a 1 Inch(2.5 cm) layer of MEMORY FOAM that covers the entire bed
Black Italia Upholstery is strong yet soft to the touch, oil & waterproof, emits no toxic odors with strong denim-like reinforcement backing for extra durability
Solid American Ash Wood Legs
High-End, Natural Satin, Furniture Finish
Numbered leg adjusting holes for accurate and easy height adjustment
Non-skid, non-marking foot pads keep the table in place (not hard plastic like other tables)
Duo-Plane center hinges assure fantastic strength at the table center
Leg-brace stabilizer bar adds strength and aids table opening and closing
Unbreakable Clevis block leg attachments guarantee rigidity and long life
Dual Soft-Touch leg-lock knobs for easy grip, safety and stability
Lifetime Warranty
Specifications:
Table Weight: 53 lbs. (23.9 kg)
32in W X 84in L X 24in to 34in H
81.3 cm W X 213.4 cm L X 60.9 cm to 86.4 cm H
Product Type:

Massage Table

Quantity:

1-10 CT