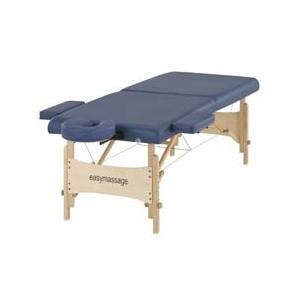 Master Home Products The EasyMassage
The EasyMassageTM
The EasyMassage is a high quality portable massage table built with you in mind; comfortable, portable, durable, and easy to set up. Our exclusive multi layered Small Cell foam system and 6 way adjustable face cradle, create the level of comfort you desire. The 5.5in wide arm extensions allow for maximum arm comfort by increasing the beds width to 39in
The EasyMassage table set up is easy with the Auto-Lock leg system which opens in seconds and the Numbered hole leg adjustments, allow for accurate, easy height adjustment. The EasyMassage is exactly what its name states: the table that makes the massage experience easy!
Specs:
Width: 28in
Length: 73in (bed only), 84in (overall w/face cradle)
Height: 22.5in- 33in (adjustable)
Weight: 34 lbs. (table only)
Supports: 800 lbs.
Bed: Wood
Foam: 1.5in thick of exclusive Small Cell foam
Color: Blue upholstery with Natural finished legs
Frame: Wood
Legs: Northern hardwood coated with DuraSeal Protection
Features:
3-Year Warranty
Auto-Lock leg opening system
Adjustable face cradle
Oil and waterproof, CFC-free upholstery with strong denim-like reinforcement backing for extra durability
Exclusive Duo-Plane Hinges increase strength at the center of the table
Unbreakable Clevis block leg attachment guarantee rigidity and long life
Arm extensions allow for maximum arm comfort
Single Soft-Touch leg-lock knob for safety and stability
Numbered hole leg adjustments
Nylon leg brace buffers keep the finished wood from scratching and make the table wobble-free
Double luggage-style closure clasps