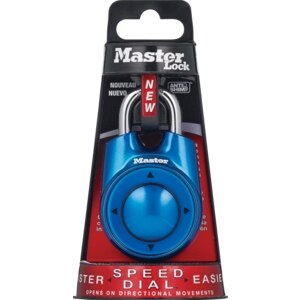 Master Lock Speed Dial Padlock
Anti shim. Faster, easier. Opens on directional movements. Set-your-own combination. Tough under fire. 1. Combination button slides up, down, left, right. 2. One-handed, no-look operation for ease of use. 3. Free customizable passcode indicators included. Easy to reset any passcode, any length. Made to exclusive Master Lock specifications in China.
To Access Combination & Indicators Inside: Cut through perforated plastic at left & right; wedge flat object behind plastic panel and pull panel toward you to open.