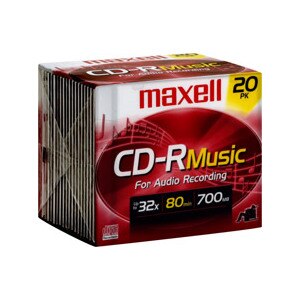 Maxell 80 Minute 700 MB CD-R Discs Music for Audio Recording
Up to 32x, 700 mb. It is possible to record only once to this disk. When recording is complete and the disc has undergone the finalization process, no further recording is possible on the CD-R. Made in Taiwan.
To Record: For use in CD-R audio recorders and CD-R computer drives. For Playback: Recorded disc can be played back on CD/DVD-ROM drives and CD/DVD players.