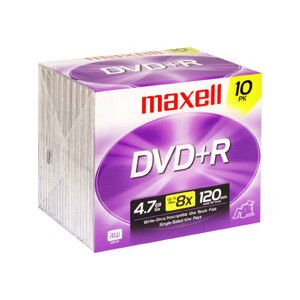 4.7 GB. Up to max. 8x. 120 Min. SP mode. Write-once. Single-sided. Video Recording Time: High Quality Mode - 1 Hour; Standard Play Mode - 2 Hours; Long Play Mode - 3 Hours; Extended Play Mode - 4 Hours. Actual recording time may vary based on hardware and recording mode. Note: Read compatibility is completely manufacturer/hardware dependent. Limited Lifetime Warranty. Made in Taiwan.
To Record: This DVD+R disc is designed for one-time recording with 4.7GB DVD+R compatible drives and video recorders and may be written/recorded at 1x to 8x speed. For Playback: After recording, this DVD+R disc can be played back in DVD+R compatible drives and video recorders as well as DVD-ROM, DVD-Video and DVD-Audio players
Use of this disc with some 2.4x-4x write speed DVD+R drives without upgrading its latest firmware may cause serious damage to the disc and/or the drive. Please read the warning inside carefully before use.