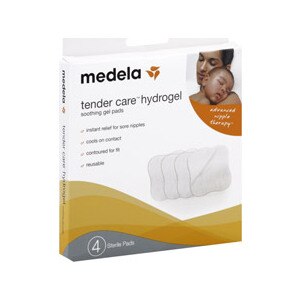 Medela Tender Care Hydro Gel Pads
Contains: 4 sterile pads. Advanced nipple therapy. Instant relief for sore nipples. Cools on contact. Contoured for fit. Reusable. Breastfeeding is a bonding experience for mom and baby. During the first week or so mothers may experience nipple tenderness. This could be related to normal postpartum skin changes or breastfeeding complications. If tenderness occurs, Medela hydrogel pads offer cooling relief and protection to tender nipples. Packaged and printed in the USA. Made in the USA.
1. Remove gel pad from the plastic liner. 2. Recommended: To reduce stickiness and improve soothing, briefly pass the exposed pad under a cool stream of water (1-2 seconds), shake off excess water, and set aside for two minutes. 3. Gently place the gel side of the pad directly on your nipple. 4. Prior to breastfeeding - remove the gel pad and place on a clean surface such as the plastic liner. 5. Gently wash the breast with warm water, pat dry. Then, breastfeeding may begin. 6. After breastfeeding, re-apply the gel pad.
Use only as directed. Keep out of reach of children. For external use only. If hydrogel pad becomes cloudy or milky, discard and use a new one. Reusable for 24 hours. Do not rinse more than two times per day. If nipples remain sore, are cracked, bleeding or having a burning sensation contact your breastfeeding specialist or healthcare provider.