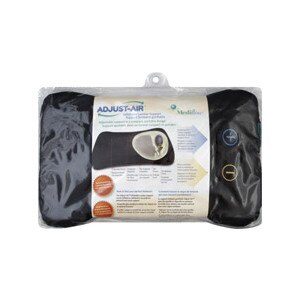 Mediflow Adjust-Air Inflatable Lumbar Support
Adjustable support in a compact, portable design. Pump here to inflate support chamber to desired support level. Press and hold here to release air from support chamber. Polyester cover. Polyester fibre fill. Air support chamber. Air pump. Air release valve. Recommended by physical therapists and spine specialists. Sit more comfortably. Wherever you go! Helps relieve back pain. Maintains correct posture, even when sitting for long periods. Unique compact design with adjustable strap is perfect for home, office and in the car. Adjusts easily - requires no external hoses or pump. Comfortable and durable - high-density foam lining is built to last. Made in China.
How to Find Your Prefect Firmness: The Adjust-Air Inflatable Lumbar Support can be inflated or deflated in seconds for optimal lower back support. Pump the plus symbol to inflate the Adjust-Air to desired firmness. If softer support is preferred, press the minus symbol to release air form support chamber. Care: Spot clean polyester cover when needed.