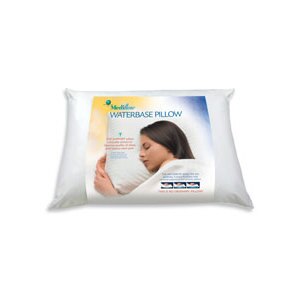 Mediflow Waterbase Pillow
Filling: Polyester (100%). Inner Insulating Cover: Polyester (100%). Outer Cover: Cotton (100%).
How to add water: 1. Dual purpose tool: Use as a wrench to remove cap. Align slot and cap. Insert base of tool in valve cap and use as a wrench to loosen cap. Turn tool counter-clockwise and remove cap. 2. Dual purpose tool: Use as a funnel and add water. Insert tool in valve opening, tighten and use as a funnel. 3. Hold pillow upright using a chair. Fill pouch with a measured amount of water to achieve desired firmness (see filling chart for details). 4. Now there is both water and an air pocket in the pouch. 5. Gently push fingers down the pillow and find top of water level. 6. Gently flatten remaining portion of pouch in a sweeping motion to remove air pocket. 7. Continuing to apply light pressure to top portion of pouch, replace cap. Very Important: For best results you must remove the air pocket from the water pouch to prevent water from sloshing. Special Notice: If you hear sloshing when you lay your head on the pillow, follow steps 5-7 again to remove any remaining air. How much water is perfect for you? Measure the correct amount of water according to the filling chart. Degree of firmness: Soft = Amount of Water: 60-80 oz (2 qt) 2 liters. Degree of firmness: Medium = Amount of Water: 80-100 oz (3 qt) 3 liters. Degree of firmness: Firm = Amount of Water: 100-130 oz (4-5 qt) 4-5 liters. What type of water should you use: Use cold or lukewarm tap water. The water temperature should not exceed 100 degrees F or 38 degrees C. The water can be left in the pillow for up to one year. Then it should be changed. If tap water is used, no chemicals need to be added to the water. If well water is used, you may add a drop of bleach to the water. Care: Empty water from pillow. Machine wash delicate/gentle cycle cold water. Extra spin. No chlorine bleach. Tumble dry Low temperature. Do not dry clean. Do not iron.