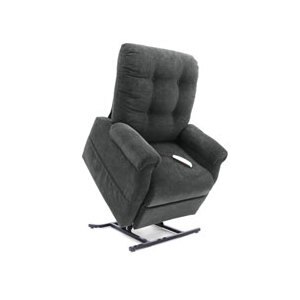 Mega Motion Three Position Reclining & Lift Chair, Element cvs201
Special Info for This Item
Online Exclusive
Whether you want to sit back and relax, watch television or take a nap, you'll love being able to ease into your power recline/lift chair. This chair offers superb comfort and a quiet and smooth performance all with the push of a button.

This is a three-position unit. This means that the chair back has the ability to go into three different positions, upright, TV recline and a full recline. However, this unit will not lie completely flat. It will be approximately a 65� angle.

If you or a loved one needs assistant sitting down or standing back up, this is the perfect chair to regain mobility and confidence
Button back design
Counter-balanced recliner mechanism delivers smooth, quiet and easy operation
Furniture grade hardwood/plywood construction
Interlocking frame for increased strength and durability
Integrated emergency battery backup in case of power failure
Four durable, easily adjustable steel leg levelers
Fabric content:
57% Acrylic/43% polyester
Classified as a medium duty fabric. This means the fabric can withstand 9,000 to 15,000 double rubs (back and forth motion that approximates the wear and tear that comes from someone sitting down or getting up from an upholstered seat). Medium duty fabric is versatile and is perfect for a family room or living room. Mega Motions Medium Duty fabric should give you years of wear with proper care.
Cleanability:
Cleaning the chair fabric is extremely important, so is using the correct product. All Mega Motion chairs have a "W" cleaning code. Code "W" is used on fabrics that should be cleaned with water-based cleaning agents. Spot clean using foam from only water based cleaners or non-solvent cleaning products. Apply foam with a soft brush in a circular motion and vacuum when dry. Pre-test a small area first before proceeding on a larger area. Do not over wet.
Regularly clean your fabric by vacuuming or light brushing. Test cleaning product in an inconspicuous area first to guard against color bleeding or fabric shrinkage. Follow all directions and advice. Call a professional when your upholstery needs overall cleaning.
Specifications:
Weight capacity: 325 LB
Back width: 28.5 in.
Seat to floor: 19 in.
Seat depth: 18 in.
Seat width: 18 in.
Top of back to seat: 26 in.
Outside arm width: 31 in.
Fabric options:
Basil, chianti, element, java, tumbleweed, burgundy
Warranty:
1 Year manufacturer's warranty on parts and service, lifetime on steel lift frame.