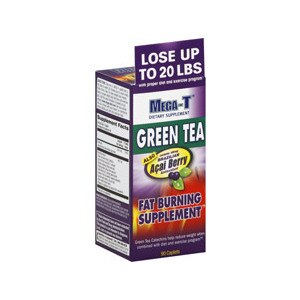 Mega-T Green Tea Fat Burning Supplement
Also contains 100 Brazilian acai berry antioxidant. Green Tea Catechins help reduce weight when combined with diet and exercise program. Lose up to 20 lbs with proper diet and exercise program (Over a period of time, you can lose up to 20 lbs. if you follow a proper weight loss diet plan and exercise plan. Before beginning any exercise program, consult your physician/healthcare provider). Helps stimulate metabolism. Also contains acai berry and resveratrol antioxidants Mega-T is a dietary supplement to help burn fat and achieve your weight loss goals. Mega-T contains 90 mg EGCG and 50 mg of caffeine. Acai Berry extract helps provide antioxidant support. The amount of weight loss that can be attained is related to your diet, exercise, activities, age and body frame. We do not recommend that you attempt to lose excessive weight over a short period of time, as it could affect your health and will not allow you to maintain the weight loss you have targeted. Most experts recommend that dieters lose no more than 2 lbs. per week. (These statements have not been evaluated by the Food and Drug Administration. This product is not intended to diagnose, treat, cure or prevent any disease.)
Proprietary Blend: Green Tea Leaf Extract, Caffeine, Acai Fruit (from Acai Fruit 5:1 Extract)(Euterpe Oleracea), Yerba Mate Leaf, Hoodia Gordonii Cactus (from Genuine South African 20:1 Extract)(Aerial Parts), Capsicum Fruit, Fucoxanthin Wakame Seaweed, Guarana Seed Extract, Uva-Ursi Leaf, Green Coffee Extract (Bean), Polygonum Cuspidatum Root Extract (50% Resveratrol). Other Ingredients: Dicalcium Phosphate, Microcrystalline Cellulose, Croscarmellose Sodium, Stearic Acid, Hypromellose, Magnesium Stearate, Silica, Hydroxypropyl Cellulose and Polyethylene Glycol.
Nutrition Facts
Serving Size: 1 caplet
Servings Per Container: 90
Variation:
| Nutrient | Amount per Serving | % Daily Value |
| --- | --- | --- |
| Proprietary Blend | 882 mg | |
| Chromium (as Chromium Dinicotinate Glycinate) | 250 mcg | 208 % |
Take one (1) Mega-T caplet with a full glass of water (20 minutes prior to each meal), three times a day. For best weight loss results, follow a proper weight loss diet plan and exercise plan. We also advise that you consult with your doctor or nutritionist before starting any diet and exercise plan. Store at 59-86 degrees F (15-30 degrees). Protect from heat, light and moisture.
For adults only (18 years and older). Do not take more than 3 caplets daily (taking more will not help you lose weight faster). Do not use if pregnant or breast feeding, taking prescription medicines, have a liver disorder, are sensitive to caffeine (this product contains a total of 50 mg of caffeine per caplet) or suffering from any medical diseases or conditions. Discontinue use and consult a physician if you experience rapid heartbeat, dizziness, severe headaches, shortness of breath or develop symptoms of liver trouble such as abdominal pain, dark urine, jaundice or other similar symptoms. Keep out of reach of children.