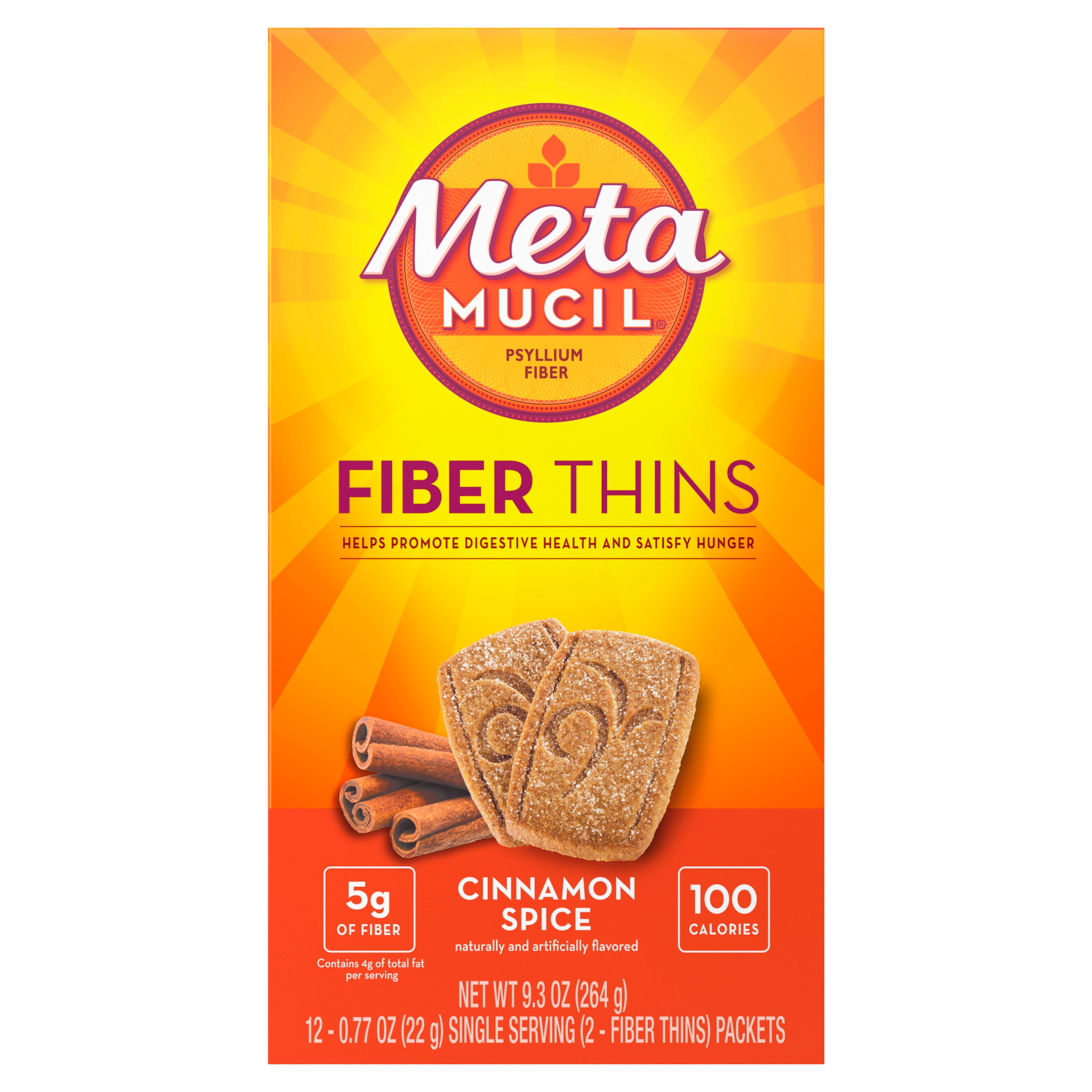 Metamucil Fiber Wafers Cinnamon Spice
Naturally and artificially flavored. With 100% natural psyllium fiber. Excellent source of dietary fiber. 4.5 g total fat per serving. Single serving (2-wafer) packets. A great tasting, easy way to help get the natural fiber your body needs. What is psyllium fiber? Psyllium (pronounced sill-i-um) fiber is a 100% natural dietary fiber that comes from the grain of the psyllium plant. How does psyllium fiber help you? These delightfully crunchy wafers contain psyllium fiber husk, a 100% natural source of soluble and insoluble fiber that works with your body to help your natural cleansing process. Get your fiber from Metamucil, a trusted leader in digestive health for over 75 years! Metamucil Fiber Wafers are a convenient and tasty way to get the daily fiber you need for your active lifestyle. A guiltless tasty treat. A delicious fiber snack for your active lifestyle. A great way to start your day. Helps Your Natural Cleansing Process: Metamucil provides 100% natural fiber, in the form of psyllium husk, to help promote and maintain regularity. Can be used for occasional constipation. Excellent Source of Dietary Fiber: Provides 20% of your recommended daily amount of dietary fiber per serving. Contains 4.5 g total fat per serving.
Wheat Flour, Sucrose, Corn Oil, Psyllium Husk, Oats, Fructose, Oat Hull Fiber, Corn Starch, Soy Lecithin, Cinnamon, Molasses, Natural and Artificial Flavors, Nutmeg, Sodium Bicarbonate, Ascorbic Acid (Preservative).
Nutrition Facts
Serving Size: 1packet
Servings Per Container: 12
Variation:
| Nutrient | Amount per Serving | % Daily Value |
| --- | --- | --- |
| Calories | 100 | |
| Calories from Fat | 40 | |
| Total Fat | 4.5g | 7 % |
| Saturated Fat | 0.5g | 3 % |
| Cholesterol | 0mg | 0 % |
| Sodium | 20mg | 0 % |
| Potassium | 55mg | 2 % |
| Total Carbohydrate | 16g | 5 % |
| Dietary Fiber | 5g | 20 % |
| Soluble Fiber | 3g | |
| Sugars | 6g | |
| Protein | 1g | |
| Vitamin A | | 0 % |
| Vitamin C | | 40 % |
| Calcium | | 2 % |
| Iron | | 4 % |
| Flavor | | |
| Trans Fat | 0g | |
For Adults 12 and Older: Enjoy 1 serving (2 wafers) with at least 8 oz of your favorite hot or cold beverage. Metamucil Fiber Wafers are a great tasting, easy way to increase your daily fiber intake. Each adult serving (2 wafers) provides 5 grams of 100% natural fiber. Eat up to 3 servings per day. Store at room temperature.
Choking: Metamucil Fiber Wafers should be eaten with at least a full glass (8 oz) of liquid. Eating this product without enough liquid may cause choking. Do not eat Fiber Wafers if you have difficulty in swallowing. Eat in an upright position. If you experience chest pain, vomiting, or difficulty in swallowing or breathing after taking this product, seek immediate medical attention. Allergy Alert: May cause an allergic reaction in people sensitive to inhaled or ingested psyllium. This product may affect how well medicines work. If you are taking a prescription medicine by mouth, eat this product at least 2 hours before or 2 hours after the prescribed medicine. New Users: As your body adjusts to increased fiber intake, you may experience changes in bowel habits or minor bloating. Ask a doctor before use if you have a sudden change in bowel habits persisting for 2 weeks, abdominal pain, nausea or vomiting. Stop use and ask a doctor if you have constipation lasting more than 7 days or rectal bleeding occurs. These may be signs of a serious condition. Keep out of reach of children. In case of accidental ingestion, contact your doctor or a Poison Control Center right away. Individually wrapped packets sealed for your protection.