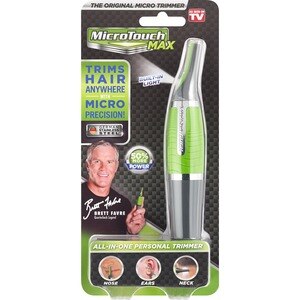 Microtouch Lighted Hair Trimmer Assorted Colors
As seen on TV. 50% More power. Trims hair with micro precision! Now with built-in light! AAA Battery included. Includes comb attachment. Look professional groomed! German stainless steel; LED light; No-slip grip; Replaceable AAA battery (included). Close as a blade yet safe to the touch. Made in China.
For complete instructions on usage, battery replacement and cleaning, see insert inside of package. For battery replacement (AAA Battery): Turn power switch off. Remove protective cover. Firmly hold upper part of unit and slide off bottom. Replace AAA battery. For Head Cleaning: Make sure unit is off. Use brush from inside package to gently wipe away any hair or dust.