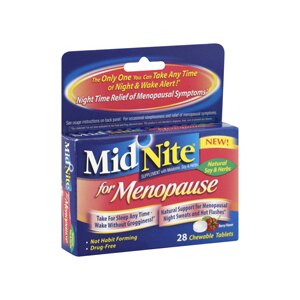 MidNite Nighttime Sleep Aid for Menopause Chewable Tablets Berry Flavor
Supplement with melatonin, soy & herbs. Natural soy & herbs. The only one you can take any time of night & wake alert! Night time relief of menopausal symptoms. For occasional sleeplessness and relief of menopausal symptoms. Take for sleep any time - wake without grogginess! Natural support for menopausal night sweats and hot flashes. Not habit forming. Drug-free. Menopause can be a trying time, particularly at night when hot flashes, night sweats and other physical symptoms can prevent you from falling asleep, or awaken you and keep you from getting back to sleep. MidNite For Menopause is the only remedy made to take any time of night to help you sleep better and help relieve night time menopausal symptoms. Take it before bed or even in the middle of the night if you awaken. Fall asleep fast, stay comfortable through the night, and then wake refreshed the next morning with no morning grogginess. The ingredients in MidNite For Menopause are clinically tested, safe, effective, and not habit forming. It's so unique, it's patented. (This statement has not been evaluated by the Food and Drug Administration. This product is not intended to diagnose, treat, cure or prevent any disease).
Proprietary Blend: Lemon Balm, Chamomile, Lavender. Other Ingredients: Mannitol, Crospovidone, Microcrystalline Cellulose, Sorbitol, Silica, Copovidone, Stearic Acid, Magnesium Stearate, Natural Flavors.
Chew one tablet or swallow with water before bed or anytime during the night. Take another serving if desired. Do not drive or operate equipment for three hours after taking.
Adult use only - keep out of reach of children. Not to be taken by pregnant or lactating women. Do not take when operating machinery, driving a vehicle or consuming alcohol. Consult your healthcare provider before using this product if you have a depressive disorder, an autoimmune, liver or other medical condition, are taking medication or develop symptoms of liver trouble such as abdominal pain, dark urine or jaundice. For a few users, gastrointestinal discomfort or allergic reactions may occur but should not be persistent. If you observe these or other side effects, discontinue use and see your healthcare practitioner. Keep out of reach of children. Protect from heat, light and moisture. Store at 15-30 degrees C (59-86 degrees F). Tamper Evident Packaging: Tablets are sealed in blisters. Do not use if seal is cut, torn or broken.