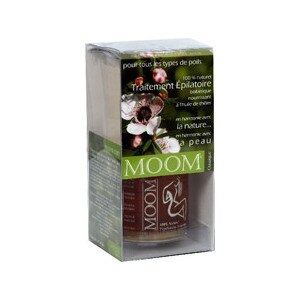 Moom Classic Hair Remover
For all hair types. 100% Natural nourishing botanical, with tea tree oil. In harmony with nature - in harmony with your skin. Smooth skin in three easy steps without the pain of waxing. Moom has reinvented the concept of hair removal by considering the beauty and health of the skin first. Moom's exclusive technology uses only the purest and most beneficial natural ingredients to deliver an effective and nourishing, 100% natural hair remover. Moom Nourishing Hair Remover with Tea Tree Oil actually pampers your skin with calming Chamomile, healing Tea Tree Oil and delicious Lemon Juice. Moom's gentle process reveals the beautiful skin you were born with without the need for a pre or post treatment lotion. Microwavable formula. Spread on skin, rub fabric strip on, and pull off. Gently removes the hair with the root. Rejuvenates the skin by removing impurities and dead cells from the surface of the skin. Leaves skin hair-free for up to 8 weeks. Leaves no residue on the skin. Washable reusable fabric strips last for years. Hypoallergenic. No animal testing. Water soluble. Kit contains: 6 oz Hair remover, 18 fabric strips, 8 applicators. Moom Classic is made with only these fine, highest quality ingredients: The Moom ingredients seal of integrity. Moom ingredients wheel: Chamomile, Lemon, Water, Tea Tree Oil, Sugar. Made in Canada.
Chamomile, Lemon Water, Tea Tree Oil, Sugar.