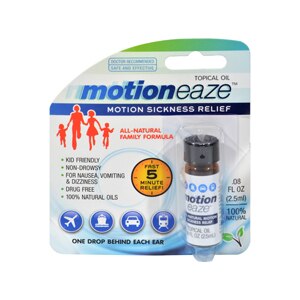 MotionEaze Motion Sickness Relief
20 applications. All-natural family-friendly formula. Safe for kids. Non-drowsy. Relief for nausea, vomiting & dizziness. Drug free/no pills. 100% natural oils. One drop behind each ear. 100% natural. Fast 5 minute relief! Doctor recommended. Safe and effective. Motioneaze is an incredibly effective all-natural motion sickness treatment. Whether you want to prevent motion sickness or ease its symptoms after the fact, Motioneaze does the job. When your nauseous, the last thing you want to do is put something in your stomach-even a pill. It's perfect for children that have problems taking pills. Enjoy the rest of your day. It's never too late to use Motioneaze. Motioneaze has been proven safe and effective for fast relief of motion sickness symptoms such as nausea, dizziness, cold sweats, headache and vomiting. Quick soothing relief of car, sea and air sickness or any other activity where motion sickness poses a problem. How it Works: The symptoms of motion sickness begin in the inner ear. When applied the active ingredients travel to the inner ear within minutes to alleviate the symptoms of motion sickness. (These statements have not been evaluated by the FDA. This product is not intended to diagnose, treat, cure, or prevent any disease.) Made in USA.
A Blend of 100% Natural Oils (Lavender, Peppermint, Frankincense, Chamomile, Myrrh, Ylang Ylang and Birch).
Tap the bottle 3 times to dispense a dime-size amount of oil on your finger. Rub the oil into the soft area on the head, right behind the ear lobe. Repeat behind the other ear. Apply 5 minutes prior to activity. Reapply as needed. If you are already experiencing symptoms, apply as directed for quick relief. Storage: Avoid exposure to heat or direct sunlight. Always store in a dark, dry place.
Recommended for ages 2 and up. If rare sensitivity occurs, discontinue use immediately and consult a physician. Keep out of reach of children. For external use only. Avoid any contact with eyes. Rinse with water to remove. If rare sensitivity occurs, discontinue use and consult a physician.