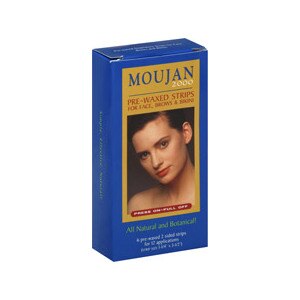 Moujan 2000 Pre-Waxed Strips For Face, Brows & Bikini
2 sided strips for 12 applications. (strip size 1-1/4 inch x 3-1/2 inch). For face, brows & bikini. All natural and botanical! Press on - pull off. Simple, effective, natural! Moujan 2000 depilatory pre-waxed strips are the most advanced method for safely removing unwanted hair from facial and other delicate areas. It's so simple , easy and safe. The pre-waxed strips have been developed to be gently pressed onto each area and pulled off. The facial strips quickly and efficiently lift the hair with bulb from its roots, leaving face and delicate areas such as breasts beautifully smooth for weeks. Made in USA.
Rosin, Beeswax, Calendula Oil, Chamomile Extract. (Cleaner: Isopropyl Myristate, Cyclomethicone, Menthol, Rose).
Please read the directions and cautions provided with this product before use. Never use any depilatory product on sensitive or broken skin.