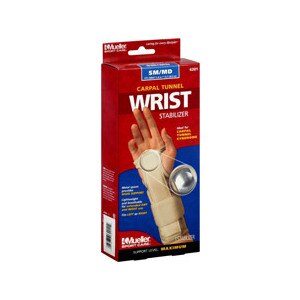 Mueller Carpal Tunnel Wrist Stabilizer Small/Medium
Fits wrist 5-8 in. Support Level: maximum. Caring for every lifestyle. Ideal for carpal tunnel syndrome. Metal spoon provides rigid support. Lightweight and breathable for extended day & night use. Fits left or right. Designed for carpal tunnel syndrome and supporting weak or injured wrists. Helps relieve pain and swelling while maintaining full range of movement of thumb and fingers. Lightweight and comfortable for all-day wear and night use. A. Two adjustable straps for a custom fit. B. Breathable fabrics for comfortable all-day wear. C. Extra long 6.5-inch spoon and two side splints provide rigid support. D. Padding around spoon adds extra comfort. CE listed. Made in China.
Easy to Apply: 1. Loosen straps. 2. Slide hand into brace, placing palm on spoon curve with thumb through loop (little finger does not go through second thumb loop). 3. Tighten top strap, then secure large bottom strap around wrist. 4. Adjust as necessary. Sizing: Measure around wrist. Care: Remove spoon before washing. Hand wash in cool water with mild detergent. Rinse thoroughly and air dry. Do not use bleach or fabric softener.
This product contains natural rubber latex which may cause allergic reactions. If rash develops or pain persists, discontinue use and consult a physician.