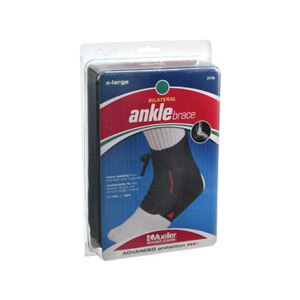 Mueller Sport Care Ankle Brace Bilateral Black X-Large 211xl
Designed for advanced support and injury prevention, the Bilateral Ankle Brace is lightweight and fits either foot. Helps prevent injury and provides excellent support for sprained or weakened ankles. Excellent brace for multi-sport athletes. A. Conforming Curve with one-way horizontal stretch elastic, creates comfort and increased support by allowing brace to conform to shape of ankle and foot during all movements. B. MT Flexfit allows the brace to expand with the metatarsal area during weight bearing, thereby preventing 'pinching' of the arch; support is maintained through all movements. C. Durable polyester eliminates need for metal eyelets. D. Stainless steel springs reinforce both sides of ankle for support and protection. E. Designed for comfort with plush back interior, heel elastic, and padded 'Easy Fit' tongue. Advanced protection.
Easy to apply: 1. Wear brace over sock. 2. Pull brace firmly onto foot. 3. Lace to top and then retighten for tight, comfortable fit. 4. Relace as necessary to maintain support. Fits standard shoe sizes (USA): X-Large: Men 13-14, Women 14-15. Care: Hand wash in cool water with mild detergent. Rinse thoroughly and air dry. Do not use bleach or fabric softener.
This product contains natural rubber latex which may cause allergic reactions. If rash develops or pain persists, discontinue use and consult a physician.