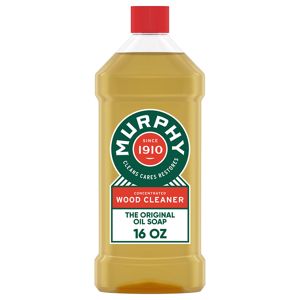 Murphy - Pure Vegetable Oil Soap, Original Formula
Safely cleans wood. Beautifully cleans wood and laminate surfaces. No dulling residue. For over 100 years, people have trusted the natural and gentle cleaning power of Murphy Oil Soap. It is ideal for safely cleaning finishes wood and other household surfaces without leaving a dulling residue. Finished Wood Surfaces: Wood Floors; Cabinets; Tables & Chairs; Wood Paneling; Laminate Floors; Bookcases. Non-Wood Surfaces: No-Wax Floors; Ceramic Tiles; Painted Surfaces; Laundry Stains; Cars; Vinyl. Biodegradable & phosphate free. Member NWFA (National Wood Flooring Association). Made in USA.
Ship & Save:

Ship & Save Eligible
Floors (Wood and No-Wax): Dilute 1/4 cup Murphy's in 1 gallon of water. Clean with well wrung-out mop, and mop up any excess water. No rinsing required. Other Surfaces: Dilute 1/4 cup Murphy's in 1 gallon of warm water. For heavy cleaning, dilute 1/2 cup Murphy's in 1 gallon of warm water. No rinsing required. Note: Murphy Oil Soap should not be used on unfinished, unsealed or waxed wood surfaces because they may be water sensitive. Test an inconspicuous area with plain water before use. For wood surfaces, remove excess liquid with a soft cloth. Discoloration or dulling indicates the wood may be waxed or needs refinishing. Due to formula differences, do not use as a refill for spray or mop.
If product contacts eye, rinse thoroughly with water. If swallowed, drink glass of water to dilute. Keep out of reach of children.