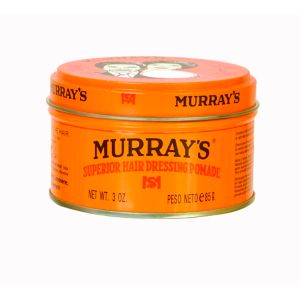 Murray's Hair Dressing Pomade
A wonderful dressing for the hair. Holds the hair in place. Perfectly harmless and does not contain any acids or alkalies. Controls bobbed hair. Made in USA.
Petrolatum, Mineral Oil, Fragrance.
For Men: First, see that hair is clean. If hair is thick, mix hair-glo with portion of pomade to be used on hair. Rub into palms of hands until it softens, then rub thoroughly into hair. Dampen the hair with hot water, or place hot, damp, towel on head for a few minutes. Remove, comb all traces of pomade out of the hair, then comb and brush into style wanted. Place a special hair pressing cap on head until hair dries.