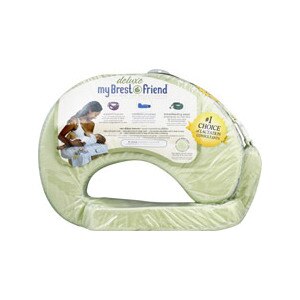 My Brest Friend Deluxe Feeding Pillow
The best for breastfeeding. Support: Wraps naturally around you and stays securely in place. Comfort: Adjustable back rest relaxes and prevents sore backs. Breastfeeding Ease: Flat-top firmness ideal for positioning baby. New Deluxe Features: baby soft plush cover; extended strap for larger sizes; one-handed adjustable velcro strap for easy on; silent release buckle for easy off when baby is sleeping. No. 1 choice of lactation consultants. Easy wash, zip off cover. Adjustable fit for most sizes. How My Brest Friend supports mom and baby. It's the only pillow that stays securely in place, it does not shift or slide like other crescent shaped pillows. No other pillow provides as much support for positioning, comfort, and security. Back rest: Helps you maintain good posture during feeding, preventing sore back and necks. New deluxe plush cover: New baby soft plush cover. Silent release buckle: Allows you to take the pillow off silently while baby is sleeping after feeding. Wrap-around design: Secures to the body, helping mom and baby maintain ideal positioning and latch-on. New one-handed adjustable strap: Has velcro for easy-on; silent release buckle for easy-off. Arm and elbow rests: Eliminates shoulder stress. Convenient pocket: For nursing and other accessories. Firm, flat front cushion: Eliminates gap between you and your baby, which keeps the baby from rolling in or away during breastfeeding. Flat-top firmness lifts and positions baby effortlessly. Ideal positioning helps prevent sore nipples. Adjustable fit also supports dad. Why My Brest Friend is best: essential features; supportive back rest; complete wrap-around design; secures to the body; stays in place; flat-top firmness; adjustable fit; ideal for c-section tummies. My Brest Friend is sold by Zenoff Products, Inc., a company dedicated to providing the highest quality nursing support products to parents all over the world. Made in China.
This pillow should only be used by an adult. Only use pillow with cover on. This pillow and its foam core should always be stored out of reach of babies and children when not in use. Do not use this product with baby while standing. Always hold baby while using this product.