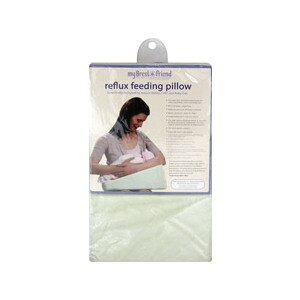 My Brest Friend Reflux Feeding Pillow
Specifically deigned to reduce reflux, colic and baby gas. Provides the recommended angle for reducing reflux, colic and baby gas. Best for baby's digestion. Reduces pressure off baby's tummy. Water resistant - easy to clean. Comfortable for C-section moms. The MBF Reflux Feeding Pillow is covered by most insurance companies. Fits most glider rockers. Great for moms who pump. It is important for babies with reflux to eat with a straight spine on at least a 30 degree angle which is easily attainable with the My Brest Friend Reflux Feeding Pillow. This pillow places a baby at an optimal angle for feeding while taking into consideration the many variations of mom's autonomy. - Renee Beebe, M.Ed., IBCLC. Easy to wash, zip off cover - water resistant lining. Baby soft, plush cover - fits most sizes. Why reflux feeding pillow is best for reflux, colic and baby gas. Water resistant, easy to clean. New baby soft plush cover, extra soft for you and your baby. Ideal angle, lactation consultants recommend feeding on an angle to prevent reflux. Ideal firmness, best to properly support baby. Better for Baby's Digestion: promotes proper digestion - better for spitups, colic and reflux; keeps baby's back straight, taking pressure off baby's tummy while feeding; puts baby in natural nursing position. Ergonomic: adjusts to perfect height for breast or bottle feeding; supports baby's weight; helps prevent sore backs, wrists, and breasts; accommodates older babies. Flexible: works with multiple holds; good for cesareans; fits most glider rockers. Made in China.
Plastic bag can be dangerous. To avoid danger of suffocation keep this bag away from babies and children.