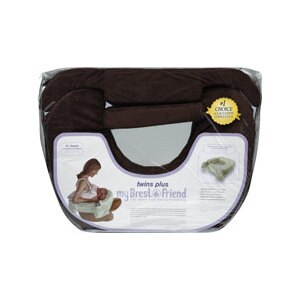 My Brest Friend Twins Plus Feeding Pillow
The best for breastfeeding. Extra comfort and support for twins and plus sizes. Adjustable fit for most sizes. Easy to wash, zip off cover. Baby soft, plush cover. Adjustable back support. Secure wrap around design. I highly recommend the My Brest Friend Twins Plus feeding pillow for all twin moms. By making it comfortable and easy to tandem feed. I have seen more breastfeeding mothers of twins increase their milk production, decrease the amount of time it takes to feed two babies and simplify their life by using the new My Brest Friend Twins Plus feeding pillow. - Nancy Held, RN, MS, IBCLC. No. 1 choice of lactation consultants. How My Brest Friend twins plus supports mom and baby. Adjustable back support: Lets you add or subtract lumbar cushion for optimum comfort. New deluxe plush cover: New baby soft plush cover. Silent release buckle: Has velcro for easy-on; silent release buckle for easy off. Wrap-around design: Secures to the body, helping mom and baby maintain ideal positioning and latch-on. Arm and elbow rests: Eliminates shoulder stress. Convenient pocket: For nursing and other accessories. Firm angled top cushion: Eliminates gap between you and you baby, which keeps the baby from rolling in or away during breastfeeding. Support: Wraps naturally around you and stays securely in place. Comfort: Adjustable back rest relaxes and prevents sore backs. Breastfeeding Ease: Firm angled top ideal for positioning babies. Why My Brest Friend twins plus is best: My Breast Friend Twins Plus: Essential Features: supportive back rest; complete wrap-around design; secures to the body; stays in place; firm angled top; adjustable fit; ideal for c-section tummies. My Brest Friend is sold by Zenoff Products, Inc., a company dedicated to providing the highest quality nursing support products to parents all over the world. Made in China.
This pillow should only be used by an adult. Only use pillow with cover on. This pillow and its foam core should always be stored out of reach of babies and children when not in use. Do not use this product with baby while standing. Always hold baby while using this product.