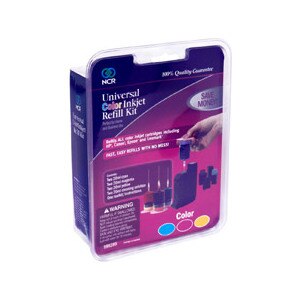 NCR Universal Color Inkjet Refill Kit
999289. Perfect for Home and Business Use. Refills All color inkjet cartridges including HP, Canon, Epson and Lexmark. Fast, easy refills with no mess! Save money! Contents: Two 20ml Cyan; Two 20ml Magenta; Two 20ml Yellow; Two 20ml Cleaning Solution; One Toolkit/Instructions. Cartridge not included.
Harmful if swallowed. Keep our of reach of children. Do not induce vomiting if swallowed. Seek medical attention immediately. Contains diethylene glycol. Skin and eye irritant. If ink comes in contact with eyes, flush with water for 15 minutes.