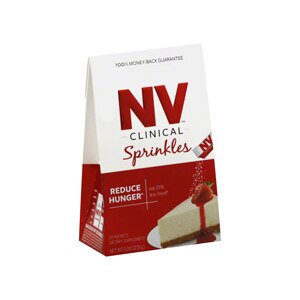 Dietary Supplement. Eat 25% less food. Backed by science! In a clinical study, overweight women consuming the NV Clinical Sprinkles core formula reduced food intake significantly more vs. placebo (-25% vs -8%) and reduced hunger levels at 4.5 hours after lunch following 8 weeks of supplementation, when compared to baseline values. The easy way to reduce your hunger. NV Clinical Sprinkles is the easy way to reduce your hunger by sprinkling it on your favorite foods. This revolutionary formula has been shown in a clinical study to significantly reduce hunger and decrease food intake by 25%! Backed by a clinical study. You can reduce your hunger without stimulants, pills or difficult diets and you don't even have to give up the foods you love - even dessert! Subjects who consumed NV Clinical Sprinkles formula felt less hungry between lunch and dinner and decreased their daily calorie intake by 25%! Try NV Clinical Sprinkles completely risk free with our 100% money-back guarantee. Free NV Clinical weight-loss guide at www.trynv.com. facebook.com/trynv. (These statements have not been evaluated by the Food and Drug Administration. This product is not intended to diagnose, treat, cure or prevent any disease). Manufactured in the United States from foreign and domestic ingredients.
Other Ingredients: Maltodextrin, Microcrystalline Cellulose, Silica.
Nutrition Facts
Serving Size: 0.4 g
Servings Per Container: 20
Variation:
| Nutrient | Amount per Serving | % Daily Value |
| --- | --- | --- |
| Chromium (as Chromium Picolinate) | 500 mcg | 417 % |
Simply sprinkle one packet of NV Clinical Sprinkles evenly over the surface of your meal or snack and mix if possible. Take 1 serving of NV Clinical Sprinkles with breakfast and 1 serving with your afternoon meal or snack. Do not exceed 2 servings in a 24-hour period. NV Clinical Sprinkles should be used with a reduced-calorie diet and regular exercise program. Visit www.tryNV.com for a free NV Clinical Weight-Loss Guide. Read the entire label before use and follow directions.
Keep out of reach of children. Do not use if you are pregnant or nursing, plan to become pregnant, have a known allergy to any ingredient in this product, or have a personal or family history of kidney disease or impairment. Not intended for use by persons under the age of 18. Consult a physician before use if you have been treated for, diagnosed with, or have a family history of any medical conditions, including but not limited to diabetes or hypertension, or if you are taking diuretic medications, blood glucose modifiers, or any other prescription or over-the-counter medication. Consult a physician for use beyond 6 months. Do not exceed the recommended serving as improper use does not enhance results. Do not use if packet has been opened. Store in a cool, dry place.