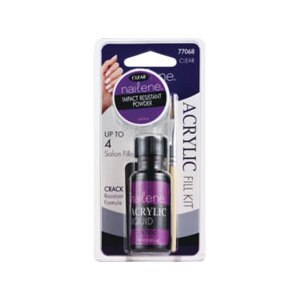 Nailene Acrylic Fill Kit Clear Gloss
Impact resistant powder. Up to 4 salon fills. Crack resistant formula. Professional technology. Contents: 5g/0.20 clear acrylic powder; 14.7 ml/0.50 fl. oz; acrylic liquid; 1 buffer; sculpting brush. Experience today's hottest nail trends with Nailene. Simple application, perfect fit and lasting wear for beautiful nails. For professional use only. Liquid - USA, power - USA, brush -Korea, buffer - USA.
Powder: Polymethyl Methacrylate, Polymethylmethacrylate, Benzoyl Peroxide. Acrylic Liquid: Ethyl Methacrylate, Glycol Dimethacrylate, Dimethyltolylamine, Benzophenone-I.
Application: 1. Remove polish from nails. Buff nails lightly then wash hands thoroughly. 2. Pour acrylic liquid into a glass bowl, filling half way. Dip brush into acrylic liquid, wiping off excess on side of bowl. Slowly drag tip of brush across powder surface until a small ball forms. 3. Place acrylic ball near cuticle. Blend into a smooth surface by patting side to side over the width of the nail and brushing forward. Repeat process on remaining nails. 4. When acrylic products are completely dry file and smooth nails. Finish with the polish of your choice. To Remove: Soak in acetone polish remover until artificial nails dissolve. Do not break or peel off nails. To change Polish: Use non-acetone polish remover.
Liquid: Flammable. Keep away from heat and flame. Avoid eye and skin contact. In case of contact, rinse with water for 15 minutes, if irritation occurs consult a physician. If swallowed, call a physician. Use with adequate ventilation. Powder: Avoid inhalation of dust. Avoid eye and skin contact. Keep out of children's reach. Read label warnings before use.