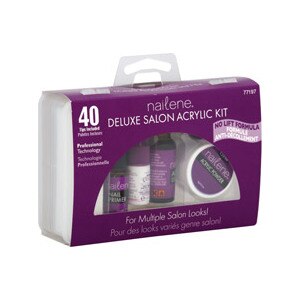 Nailene Deluxe Salon Acrylic Kit
40 tips included. Professional technology. No lift formula. For multiple salon looks! Complete kit for multiple acrylic nails and fills! Experience today's hottest nail trends with Nailene. Simple application, perfect fit and lasting wear for beautiful nails. Contents: 20 french tips; 20 natural tips; 5g/0.20 oz clear acrylic powder; 14.7 ml/0.50 fl oz acrylic liquid; 0.10 oz (3 g) ultra quick nail glue; 3.5 ml/0.12 fl. oz. Ultrabond primer; buffing block; professional 2 way file; sculpting brush; dappen dish; manicure stick. For professional use only. Nails - China; powder - USA; acrylic liquid - USA, glue - Japan, primer - USA, buffing block - England; file- USA; brush - Korea; dappen dish - Indonesia; manicure stick - China.
Nails: Plastic. Powder: Polymethyl Methacrylate, Polethylmethacrylate, Benzoyl Peroxide. Acrylic Liquid: Ethyl Methacrylate, Glycol Dimethacrylate, Dimethyltolylamine, Benzophenone-L. Primer: Ethyl Acetate, Isopropylidenediphenyl Bisoxyhydroxypropyl Methacrylate, HEMA. Glue: Ethyl Cyanoacrylate Polymethyl Methacrylate.
Liquid and Primer: Flammable. Use with adequate ventilation. Do not use on thin or cracked nails. Avoid eye and prolonged contact with skin. If eye contact occurs flush with water for 15 minutes. If swallowed consult a physician. Powder: Avoid inhalation of dust. Avoid eye and skin contact. Glue: Danger: Cyanoacrylate. Bonds skin and eyes in seconds. Irritating to eyes, respiratory system and skin. Keep out of reach of children. Protect work surfaces & use adequate ventilation. Avoid contact with clothing as can cause burn. Do not use if nail is inflamed or infected. For accidental eye or skin contact, flush with water for 15 minutes; get medical attention for eye or internal contact. In case of eye contact do not use acetone or nail polish remover.