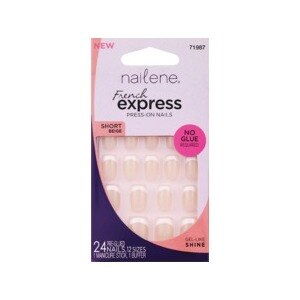 Nailene French Express Press-On Nails, Short Beige 71987
NEW

SHORT BEIGE

NO GLUE REQUIRED!

GEL-LIKE SHINE

24 PRE-GLUED NAILS, 12 SIZES 1 MANICURE STICK,
1 BUFFER

For an everyday French manicure look for Nailene� So Natural. Now much thinner, for a perfect fit!

Our French Express nails are the quickest way to apply a beautiful french manicure. All you do is place, press and voil� - you have a full set of salon quality nails with a gel-like shine. Our self-adhesive technology has been specially formulated for maximum comfort and superior wear, yet easy to remove.

12M

Visit nailene.com for instructional videos or professional tips.

SUSTAINABLE FORESTRY INITIATIVE
Certified Sourcing

www.sfiprogram.org

Packaged in Mexico with parts from: Nails - China, Stick - Mexico, Buffer - China.
Imported & Distributed by:
UK: The Distribution Centre, Victoria Road, Stoke-on-Trent, ST4 2PJ
Australia: Heritage Brands Pty. Ltd., 30 Bando Road, Springvale, VIC 3171
South Africa: Indigo Brands, Indigo Park, 16-20 Evans Avenue, Epping, 7460
Customer Care Number: 0800 INDIGO (463446)
New Zealand: Wilson Consumer Products Ltd., Auckland

Satisfaction Guaranteed! If you are not completely satisfied with this product, please send unused portion and sales receipt to:
Pacific World Corp.,
8409 Kern Street, Suite 100
San Diego, CA 92154, USA

Manufactured for �
Pacific World Corp.,
Aliso Viejo, CA 92656, USA

www.nailene.com
ADHESIVE:,Mowilith DM 21,Water,Isopropyl Alcohol,Vinyl Acetate__NEW_LIST__NAILS:,Methyl Methacrylate ABC (Acrylonitrile-Butadiene-Styrene)
Nail Application Wear up to a week.
Buff nail then clean. Push back cuticles.
Press and hold.
To Remove Gently peel off from side to side. For quicker removal, soak nails in warm water for 1 minute, then gently peel off.
WARNINGS: KEEP OUT OF REACH OF CHILDREN.If swallowed, seek medical advice immediately and show container or label. Avoid contact with eyes and skin. Do not use if nail is inflamed or infected.