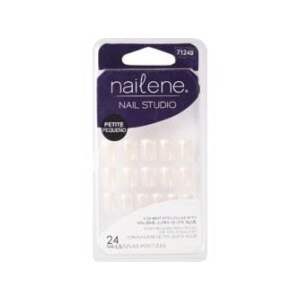 Nailene Nail Studio Nails Petite Size
No chip tips! Chip proof technology. Beautiful nails in an instant! Packaged in Mexico: Nails - China/Mexico; Buffer - China.
1. Clean and buff nail lightly. 2. Apply nail glue for easiest application and longest wear. 3. Press and hold. To Remove: Trim and file artificial nail. Soak in acetone polish remover until artificial nails dissolve. Do not break or peel off nails. Wear beyond 7 days is not recommended.
Do not use if nail is inflamed or infected. Keep out of reach of children.