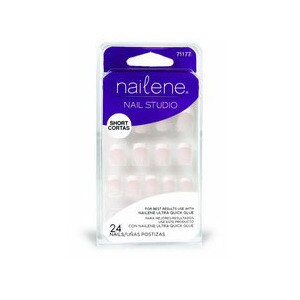 Nailene Nail Studio Nails Short Length Classic 71177
Improved look & feel guaranteed. Chip proof. Beautiful nails in an instant. Packaged in Mexico: Nails - China; Buffer - China.
1. Clean and buff nail lightly. 2. Apply nail glue for easiest application and longest wear. 3. Press and hold. To Remove: Soak in acetone polish remover until artificial nails dissolve. Do not break or peel off nails.
Do not use if nail is inflamed or infected. Keep out of reach of children.