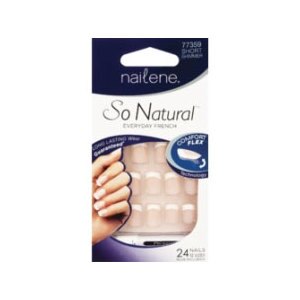 Contents: 24 glue on nails, 0.07 oz (2 g) glue, manicure stick, buffer. 24 nails, 12 sizes. Glue included. Improved look & feel. Everyday, natural look. Busy, active lifestyles; short length; square shape. So Natural short length nails are perfect for busy and active lifestyles. Nails look just like your own for more beautiful hands. Packaged in Mexico. Nails: China. Buffer: China. Glue: Japan/India/Thailand. Stick: China.
Nails: Plastic. Glue: Ethyl 2-Cyanoacrylate, Polymethyl Methacrylate.
Nail Application: 1. Buff nail then clean. Push back cuticles. 2. Apply glue to artificial nail. 3. Apply glue to natural nail. 4. Press and hold. To Remove: Soak in acetone polish remover until artificial nails dissolve. Do not break or peel off nails.
Danger: Cyanoacrylate. Bonds skin and eyes in seconds. Irritating to eyes, respiratory system and skin. Keep out of reach of children. Avoid contact with clothing as can cause burn. Do not use if nail is inflamed or infected. For accidental eye/skin contact, flush with water for 15 minutes. Seek medical attention for eye or internal contact.