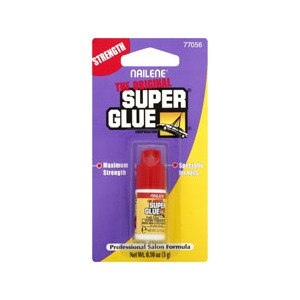 The original. Strength. Maximum strength. Specially for nails. Professional salon formula. Made in India.
Ethyl Cyanoacrylate, Polymethyl Methacrylate, Hydroquinone.
To Open: Point bottle away from face and body. Prepare, clean and dry nail surface. For Artificial Nail Application: Spread a thin layer of glue over natural nail. Press and hold artificial nail or tip for 5 seconds. For Nail Repair: Place a drop of glue on nail break or tear. Hold repair in place with tweezers 5 seconds. Buff glue area to a smooth finish. To Remove: Soak in acetone polish remover until artificial nails dissolve. Do not break or peel off nails.
Cyanoacrylate. Bonds skin and eyes in seconds. Irritating to eyes, respiratory system and skin. Keep out of reach of children. Avoid contact with clothing as can cause burn. Do not use if nail is inflamed or infected. For accidental eye or skin contact, flush with water for 15 minutes. Seek medical attention for eye or internal contact.