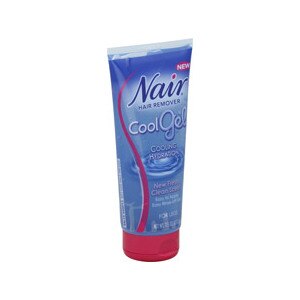 Nair Cool Gel Cooling Hydration Hair Remover Clean Scent
Cooling hydration! New fresh, clean scent. Easy to apply, easy to rinse-off gel. For radiant, smooth skin. Dermatologist tested.
Water, Potassium Thioglycolate, Potassium Hydroxide, Carbomer, Oleth-20, Glycerin, Fragrance, Menthyl Lactate, Coco-Glucoside, Magnesium Sulfate, Propylene Glycol, Menthol, Methylene Dinaphthalenesulfonate, Spirulina Maxima Extract, Ultramarines.
Read the warning section before use. To Apply Gel: Squeeze gel into palm of hand. Smooth an even, thick layer to cover hair. Do not rub in. Wash your hands immediately after application. Leave on for 5 to 6 minutes. Then check a small area for hair removal. Total hair removal depends on hair thickness. If the hair does not come off after 6 minutes, leave on for a few minutes longer. Do not exceed 10 minutes of total application time. To Remove Gel and Hair: Gently wipe off the gel and hair with a damp washcloth. Do not rub. Once all hair has been removed, rinse skin thoroughly with lukewarm water in the shower. Pat dry. Keep tube closed when not in use. To maintain smooth and radiant skin, apply your favorite moisturizer daily.
Always follow the directions for use. Irritation or allergic reaction may occur with some people, even after prior use without adverse effect. Therefore, test before each use by applying product to a small part of the area where hair is to be removed. Follow directions and wait 24 hours. If skin appears normal, proceed with full application. Do not use on irritated, sunburned, inflamed or broken skin. If irritation occurs during use, remove the product and rinse area with cold water. If irritation persists, consult your physician. Do not use on face, around eyes, in nose, in ears, on breast nipples, arms, underarms, bikini area, perianal or vaginal/genital areas. Keep away from eyes. Should product touch the eyes, wash thoroughly with lukewarm water. For external use only. Keep out of reach of children.