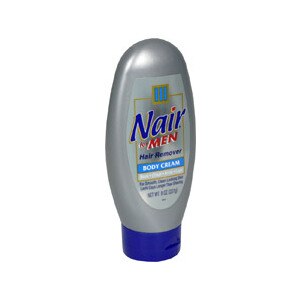 Back. Chest. Arms. Legs. For smooth, clean-looking skin. Lasts days longer than shaving. Dermatologist tested Nair for Men Hair Removal Cream provides a complete hair removal regimen that removes unwanted hair and exfoliates and moisturizes your skin in one easy step.
Water, Mineral Oil, Calcium Thioglycolate, Cetearyl Alcohol, Calcium Hydroxide, Ceteareth-20, Sodium Hydroxide, Camellia Oleifera Leaf Extract, Butylene Glycol, Helianthus Annuus (Sunflower), Seed Oil, Fragrance, Chromium Hydroxide Green.
Flip open cap. Squeeze cream onto palm. Gently apply cream evenly and completely to cover hair with a thick, even layer. Do not rub in. After 8 minutes test a small area. If hair does not wipe off easily, leave on a little longer. Do not exceed 15 minutes. For especially coarse or hard to remove hair, saturate hair with lukewarm water for several minutes, pat dry and then apply product. To Remove Hair: Rinse thoroughly with lukewarm water using a washcloth to wipe off the hair. Do jot rub or use soap. Pat dry. Keep container closed when not in use.
Irritation or allergic reaction may occur with some people even after prior use without adverse effect. Therefore, test before each use by applying cream on a small part of the area where the hair is to be removed. Follow directions and wait 24 hours. If skin appears normal proceed to full application. Do not use on irritated, inflamed, or broken skin. Keep away from eyes. Should cream should touch eyes, wash thoroughly with lukewarm water. If irritation occurs, consult your physician. Do not use on head or face, around eyes, in nose, in ears, on nipples, perianal, or genital areas. Keep out of reach of children.