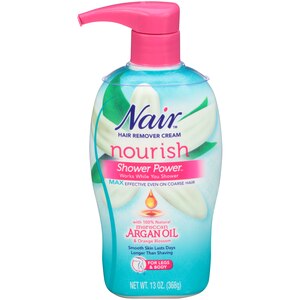 Nair Shower Power Max Hair Remover Value Size
Works while you shower! Cream for legs and body. Effective even on coarse hair with soothing lavender & vitamin E. Effective on coarse, thick hair. Just a shower away from smooth, radiant skin. Smooth skin lasts longer than shaving. Specially designed sponge for effective hair removal.
Product Type:

Hair Remover

Formulation:

Cream

Quantity:

11-15 OZ

Fragrance:

Floral
Water, Urea, Mineral Oil, Potassium Thioglycolate, Calcium Hydroxide, Cetearyl Alcohol, Ceteareth-20, Lanolin, Sodium Hydroxide, Silica, Propylene Glycol, Lavandula Angustifolia (Lavender) Flower Extract, Tocopherol, Fragrance.
Read the warnings section before use. Apply Cream Outside of Shower: Skin must be dry before application. Turn counter clockwise to unlock. Dispense cream onto purple side of the dry sponge with pump facing away from you and apply an even layer to cover hair. Do not rub in. Repeat until the entire area where hair to be removed is covered. Place sponge near tub/shower with white side of the sponge down. Wait at least 1 minute before showering. Shower: Step into the shower and follow your usual routine. The cream will resist wash off but a small amount of wash off is not unusual. For optimum product performance, keep skin where cream has been applied away from direct stream of water. Make sure the cream stays on your skin for at least an additional 2 minutes while in the shower. Do not exceed 10 minutes of total application time. Remove/Rinse: Total hair removal depends on hair thickness. Rinse the sponge and use the white side to remove the cream together with the hair in a small area. If the hair comes off easily, remove the rest of the cream by massaging in a circular motion. If the hair does not come off, leave the cream on longer without exceeding 10 minutes of total application time. Once the cream and hair have been removed, rinse skin thoroughly under the shower. Do not rub, pat dry gently. Rinse the sponge. Wipe dispenser clean. To keep skin smooth and radiant, apply your favorite moisturizer daily.
Always follow the directions for use. Irritation or allergic reaction may occur with some people, even after prior use without adverse effect. Therefore test before each use by applying product to a small part of the area where hair is to be removed. Follow directions and wait 24 hours. If skin appears normal, proceed with full application. Do not use on irritated, sunburned, inflamed, or broken skin. If irritation occurs during use, remove the product and rinse area with cold water. If irritation persists, consult your physician. Product can be used on arms, underarms, legs and bikini area. Do not use on face, around eyes, in nose, in ears, on breast nipples, perianal or vaginal/genital areas. Product may cause surfaces to become slippery. Avoid product contact with other personal/bath items. Clean immediately in case of accidental contact with the cream. Keep out of reach of children. Always avoid contact with eyes. Should product touch the eyes, wash thoroughly with lukewarm water.