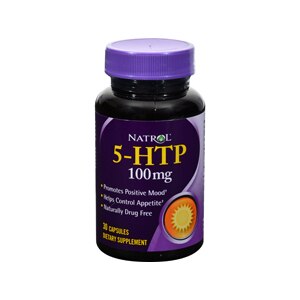 Natrol 5-HTP 100 mg Capsules
Dietary Supplement. Promotes positive mood. Helps control appetite. Naturally drug free. Natrol 5-HTP is a drug-free plant-derived source of an amino acid that naturally increases the body's level of serotonin, the chemical messenger that affects emotions, behavior, appetite, thought and sleep. Regular use of Natrol 5-HTP helps provide a more positive outlook, promotes relaxation, calm and greater appetite control. (These statements have not been evaluated by the Food and Drug Administration. This product is not intended to diagnose, treat, cure or prevent any disease.) No yeast, wheat, corn, milk, egg, soy, glutens, artificial colors or flavors, added sugar, starch or preservatives.
Other Ingredients: Rice Flour, Gelatin, Silica, Water, Magnesium Stearate.
Nutrition Facts
Serving Size: 1 capsule
Servings Per Container: 30
Variation:
| Nutrient | Amount per Serving | % Daily Value |
| --- | --- | --- |
| 5-HTP (5-Hydroxytryptophan) (from Griffonia simplicifolia) (seed) | 100 mg | |
Take 1 capsule, up to two times daily, with food. Store in a cool, dry place.
Consult your healthcare professional prior to use if you have or suspect a medical condition or are taking prescription drugs including drugs for depression, migraines, Parkinson's disease or psychiatric disorders. Do not use with other supplements containing L-Tryptophan or 5-HTP. Do not use if you are pregnant, lactating or under the age of 18 years. Keep out of reach of children.