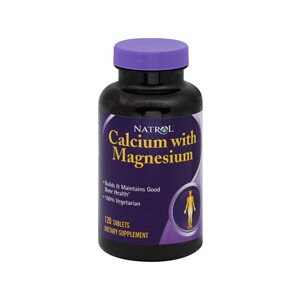 Natrol Calcium With Magnesium Tablets
Dietary Supplement. Builds & maintains good bone health. 100% vegetarian. The average diet does not have enough calcium. Ensure that you are getting enough for healthy bones and teeth by taking Natrol Calcium with Magnesium everyday. Just three tablets provide 50% of the daily value of both calcium and magnesium. Natrol Calcium with Magnesium features rapid-release tablets. No yeast, wheat, corn, milk, egg, soy, glutens, artificial colors or flavors, added sugar, starch or preservatives. (These statements have not been evaluated by the Food and Drug Administration. This product is not intended to diagnose, treat, cure or prevent any disease.)
Fruit Base: Beet Extract (Root), Cranberry Extract (Fruit), Bilberry Extract (Fruit), Strawberry Extract (Fruit), Pineapple Juice Concentrate (Fruit). Other Ingredients: Cellulose, Cellulose Gum, Silica, Stearic Acid, Magnesium Stearate, Methylcellulose, Glycerin.
Take 3 tablets, one time daily, with a meal. Store in a cool, dry place.
Consult your healthcare professional prior to use if you have or suspect a medical condition, are taking prescription drugs, or are pregnant or lactating. Keep out of reach of children.