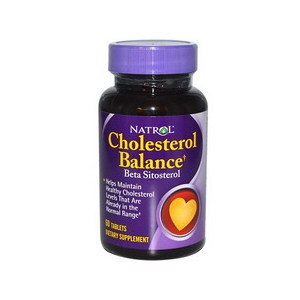 Natrol Cholesterol Balance Tablets
Dietary Supplement. Beta sitosterol. Helps maintain healthy cholesterol levels that are already in the normal range. Beta sitosterol, also known as phytosterols, has shown efficacy in maintaining cholesterol levels that are already within a normal range when combined with a healthy calorie reduction and exercise program. No yeast, wheat, milk, egg, glutens, artificial colors or flavors, added sugar, starch or preservatives. (These statements have not been evaluated by the Food & Drug Administration. This product is not intended to diagnose, cure, treat or prevent disease).
Other Ingredients: Cellulose, Stearic Acid, Silica, Cellulose Gum, Magnesium Stearate, Methylcellulose, Glycerin.
Nutrition Facts
Serving Size: 2 tablets
Servings Per Container: 30
Variation:
| Nutrient | Amount per Serving | % Daily Value |
| --- | --- | --- |
| Beta Sitosterol | 240 mg | |
| Campesterol | 120 mg | |
| Stigmasterol | 80 mg | |
| Phytosterols (soy) | 600 mg | |
| Citrus Pectin Cellulose Complex | 60 mg | |
Take 2 tablets, three times daily, preferably with a meal.
Consult your healthcare professional prior to use If you have or suspect a medical condition, or are taking prescription drugs. People with allergies to soy should contact their healthcare professional before taking this product. Do not use if you are pregnant or lactating. Store in a cool, dry place. Keep out of reach of children.