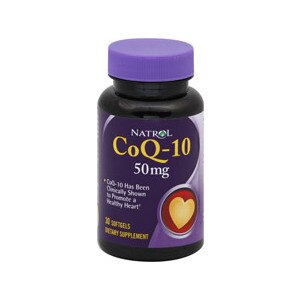 Natrol Coq-10 50 Mg Capsules
Dietary Supplement. CoQ-10 has been clinically shown to promote a healthy heart. Natrol CoQ-10 is a natural antioxidant essential for cells to work efficiently in the heart and throughout the body. CoQ-10 levels in the human body decrease with age, making it harder to convert fats and sugars into energy. CoQ-10 can be used as part of a daily regimen for heart health. No yeast, wheat, corn, milk, egg, glutens, artificial flavors, added sugar or starch. (These statements have not been evaluated by the Food and Drug Administration. This product is not intended to diagnose, treat, cure or prevent any disease.)
Other Ingredients: Gelatin, Soybean Oil, Glycerin, Water, Colored with Riboflavin and Titanium Dioxide, Yellow Beeswax, Lecithin (Soy), D-Alpha Tocopherol (as Preservative), Polysorbate 80.
Take 1 softgel, one time daily, with a meal. Store in a cool, dry place.
Consult your healthcare professional prior to use if you have or suspect a medical condition, are taking prescription drugs, or are pregnant or lactating. People with allergies to soy should consult their healthcare professional before taking this product. Keep out of reach of children.