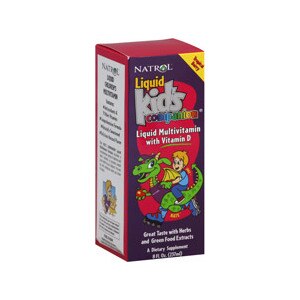 Natrol Multi-Vitamin Children's Liquid
A Dietary Supplement. Great taste with herbs and green food extracts. Features: antioxidants & 9 other vitamins; comprehensive formula; naturally sweetened; delicious natural flavor. The Kid's Companion Liquid Multivitamin Formula provides a comprehensive profile of vitamins and select nutrients to promote overall good health for your children. You can buy with confidence when you know it's Natrol. No artificial colors, dairy, yeast, wheat, gluten or starch. (These statements have not been evaluated by the Food and Drug Administration. This product is not intended to diagnose, treat, cure or prevent any disease.)
Other Ingredients: Purified Water, Brown Rice Syrup, Glycerin, Natural Flavors (Mixed Berry, Raspberry, Vanilla, Cherry), Citric Acid, Ultra Green Foods Concentrate (Hesperidin, Peppermint, Spinach, Chamomile, Licorice, Nettles, Anise, Millefolium, Plantago, Equisetum, Green Tea, Alfalfa), Xanthan Gum, Sodium Benzoate (as Preservative).
Shake well before each use. For children one year of age and older, take 2 teaspoons (10 ml) daily with a meal. May be taken directly or combined with water or juice. Store at room temperature (55-85 degrees F).
Keep out of reach of children.