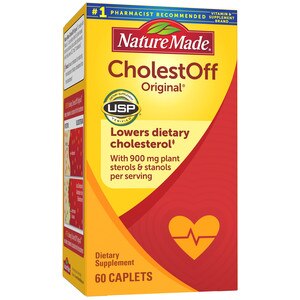 Nature Made Cholestoff Caplets
Dietary Supplement. Lowers cholesterol naturally. Clinically proven. May reduce the risk of heart disease. Lower LDL cholesterol up to 24% CholestOff & Diet (Changes in diet alone resulted in 8.9% decrease in LDL). 6 clinical Studies - Range: 4-24%. The average reduction in LDL cholesterol in six clinical studies of 3 weeks or longer supporting Reducol was 3.7% - 24.4%. Even if you watch your diet and exercise regularly it may not be enough to lower your cholesterol to heart health levels. That's where Nature Made CholestOff can help. CholestOff is an all-natural drug free blend of plant sterols and stanols, called Reducol which has been clinically proven to block cholesterol absorption and reduce LDL (bad) cholesterol in as few as 21 days. CholestOff is safe and effective even if you are currently taking prescription medication to lower your cholesterol. CholestOff provides the extra 1.8 grams of plant sterols and stanols daily that many Americans need to reach National Institutes of Health Therapeutic Lifestyle Change Guidelines. These guidelines include 2 grams of plant sterols and stanols per day. The average Western diet only provides 0.2 grams per day. National Institutes of Health therapeutic lifestyle change guidelines (TLC). These were designed to help reduce bad (LDL) cholesterol. 1. Diet - Reduce consumption of standard fat to less than 7% of calories. Reduce cholesterol intake to less than 200 mg/day. Consider increasing consumption of plant stanols/sterols to 2g/day and soluble fiber to 10-25 g/day. 2. Weight management. 3. Increase physical activity. Source: National Cholesterol Education Program (NCEP). Products containing at least 0.4 grams per serving of plant sterols and stanols, eaten twice a day with meals for a daily intake of at least 0.8 grams as part of a diet low in standard fat and cholesterol, may reduce the risk of heart disease. One serving of Nature Made CholestOff supplies 0.9 grams of plant sterols and stanols for optimum benefits. As part of a cholesterol management program, you should consult you physician and have you cholesterol levels checked regularly. Easy to swallow coated caplets. No artificial flavors. No preservatives. No chemical solvents, yeast, starch or gluten. CholestOff Caplets are made to Nature Made's guaranteed purity and potency standards.
Other Ingredients: Tricalcium Phosphate, Croscarmellose Sodium, Hydroxypropyl Methylcellulose, Calcium Carbonate, Silicon Dioxide, Stearic Acid, Magnesium Stearate, Titanium Dioxide (Artificial Color), Polyethylene Glycol, Triethyl Citrate, Polysorbate 80, Sodium Citrate.
Take two caplets two times daily with a glass of water or other beverage before meals. For optimal effectiveness, take this product between 15 and 30 minutes before eating a meal. Keep bottle tightly closed. Store in a cool, dry place, out of reach of children. Color variation is normal with this natural product.
Not for use by pregnant or lactating women, or young children. Check with your physician before beginning use of CholestOff if you are currently using medications to lower you cholesterol. Do not use if imprinted seal under cap is broken or missing.