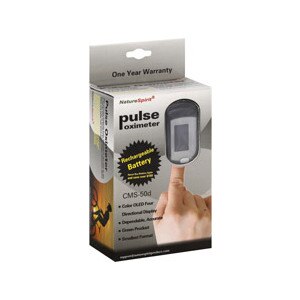 NatureSpirit CMS-50d Fingertip Oximeter w/ Rechargeable Battery
CMS-50d. Size: 57 L x 32 W x 30 mm. Net Weight: 50 g. Gross Weight: 200 g. Rechargeable battery. Never buy battery again and save over $100. Color OLED four directional display. Dependable, accurate. Green product. Smallest format. Included Accessories: power charging adapter; USB cable; hanging cord; carrying pouch. Oxygen level. Pulse rate. This portable Fingertip Pulse Oximeter is very easy to use. It can be used to measure blood oxygen saturation (SpO2) value and pulse rate accurately. Essential to monitor lung and heart function for smokers, people with heart, respiratory and pulmonary illness such as COPD and asthma. Made in China.
The fingertip pulse oximeter is not a medical device and can not be used for medical diagnostic and treatment activities. It is sold without a prescription.