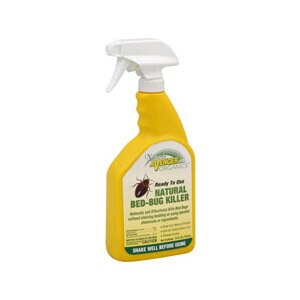 Nature's Avenger Organics Natural Bed-Bug Killer
Ready to use. Naturally and effectively kills bed bugs without staining bedding or using harmful chemicals or ingredients. Made from natural extracts. Safe for indoor/outdoor use. Pleasant aroma. Natural Bed Bug Killer contains only 100% EPA exempted ingredients. This product is exempt from registration with the Federal EPA under section 25 (b) of FIFRA, and as such, is not registered with the Environmental Protection Agency Cutting Edge Formulations, inc. represents that this product is and its ingredients qualify for exemption from registration under FIFRA. Made in USA.
Active Ingredients: Clove Oil (0.003%), Peppermint Oil (1.0%). Inert Ingredients: Citric Acid, Glycerin, Oleic Acid, Water (95.7%).
It is a violation of state law to use this product in a manner inconsistent with its labeling. Shake well before using. Spray directly onto bed bug infested areas including carpet, walls, cracks, crevices, interior of night stands and dresser drawers. Follow-up in 1-2 weeks after application in same areas. Be careful not to get in the eyes or on the skin. May cause stains and/or burn some susceptible plants. Always test an area before full-application. Natural Bed Bug Killer controls bed bugs when used as directed. Storage & Disposal: Always store in a cool dry area inaccessible to children or pets. Store and transport in an upright position. Disposal if Empty: Do not reuse container. Place in trash or offer for recycling if available.
Keep out of reach of children. First Aid: If on skin, wash with soap and water. Have the product container or label with you when calling a poison control center or doctor or going for treatment. If Swallowed: Call a poison control center or doctor immediately for treatment advice. Do not induce vomiting unless told to do so by the poison control center or doctor. Do not give anything by mouth to an unconscious person. Notice: Buyer assumes all responsibility for safety and use not in accordance with directions.