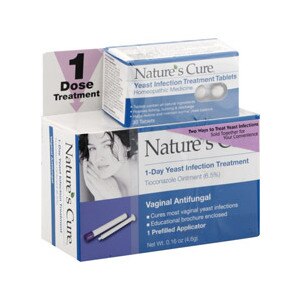 Nature's Cure 1-Day Yeast Infectiontreatment
1 Dose treatment. Tioconazole ointment (6.5%). Vaginal antifungal. Cure most vaginal yeast infections. Education brochure enclosed. 1 Disposal applicator. This product is a 1-dose treatment; most women do not experience complete relief of their symptoms in just one day. Most women experience some improvement within 1 day and complete relief of symptoms within 7 days. Two ways to treat yeast infections sold together for your convenience. Yeast Infection Treatment Tablets: Homeopathic medicine. Tablets contain all-natural ingredients; Relieves itching, burning & discharge; Help restore and maintain normal yeast balance. 30 Tablets. Made in the USA.
Ointment: Active Ingredient (in each Applicator): Tioconazole (6.5%). Inactive Ingredients: Butylated Hydroxyanisole, Magnesium Aluminum Silicate, White Petrolatum. Tablets: Active Ingredients: Borax (Sodium Borate) (12x), Candida Albicans (Candida Yeast) (12x, 30x, 60x, 200x), Candida Parapsilosus (Candida Yeast) (12x, 30x, 60x, 200x) Carbolicum Acidum (Carbolic Acid) (12x), Echinacea Angustifolia (Echinacea) (6x), Helonias Dioica (False Unicorn Root) (6x, 12x, 30x), Hydrastis Canadensis (Golden Seal) (6x), Natrum Muriaticum (Sodium Chloride) (6x), Oophorinum (Glandular) (12x), Pulsatilla Nigricans (Wind Flower) (12x), Sepia (Cuttlefish Ink) (12x), Thuja Occidentalis (Tree of Life) (6x, 12x, 30x). Inactive Ingredients: Lactose, Magnesium Stearate.
Ointment: Before using, read the enclosed brochure for complete instructions and information. Adults and children 12 years and over: open the tube just before use. Fill the applicator and insert entire contents of applicator into the vagina, preferably at bedtime. Children under 12: ask a doctor. Store at 15 degrees to 30 degrees C (59 degrees to 86 degrees F). Tablets: Take one tablet 4 times daily for first 3 days of yeast infection; afterwards, take 1 tablet daily until all tablets are used. For best results, chew the tablet slightly and allow it to dissolve in your mouth before swallowing. Can be used in conjunction with antifungal vaginal medications such as Nature's Cure 1-Day Yeast Infection Treatment.
Ointment: For vaginal use only. Do not use if you have never had a vaginal yeast infection diagnosed by a doctor; if you have a fever (higher than 100 degrees F), pain in the lower abdomen, back, or either shoulder, or foul-smelling vaginal discharge. You should see a doctor for these symptoms. Ask a doctor before use if you have vaginal itching and discomfort for the first time; symptoms that return within 2 months. You could be pregnant or have a serious underlying medical cause for your symptoms including diabetes or a weakened immune system (which may be due to HIV - the virus that causes AIDS). When using this product do not use tampons, douches, spermicides, or other vaginal products; do not use condoms or diaphragms as this product may damage them and they may not prevent sexually transmitted disease or pregnancy; do not have vaginal intercourse; wait 3 days after treatment to resume using condoms or a diaphragm. Stop use and ask a doctor if symptoms do not get better after 3 days; symptoms last for more than 7 days. You may have a condition other than a yeast infection; you get a rash, fever, abdominal pain, or a foul-smelling vaginal discharge. If pregnant or breast-feeding, ask a health professional before use. Keep out of reach of children. If swallowed, get medical help or contact a Poison Control Center right away. Do not use if tube seal is punctured or missing. Tablets: If this is your first time treating a yeast infection, use only after diagnoses by your doctor. If symptoms persist or worsen, discontinue use. If symptoms still continue, contact a doctor. If pregnant or breast-feeding, ask a health professional before use. Keep out of reach of children. Tamper Resistant Packaging: Do not use if the Nature's Cure imprinted tablet backing is missing or broken.