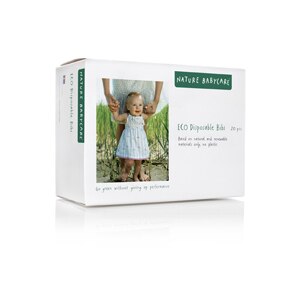 Naty by Nature Babycare Eco Disposable Bags
Healthy baby, healthy planet. Naturally.

Made only from natural and renewable materials. The absorbent material is made from chlorine free natural tree pulp and the bottom layer is a soft, water-resistant hygienic film, based on natural corn. The film is naturally breathable, creating a biologic barrier that keeps the wet from coming out and lets the air in. The result is an extremely comfortable bib, kind to the baby
As with any paper products, bibs may burn if exposed to flame. To avoid the risk of choking, do not allow baby to tear bib. Discard any torn or damaged bibs immediately. Do not leave child unattended while wearing bib. Use under adult supervision. Discard in waste receptacle, do not flush. This product is not a toy. Do not allow children to play with it.