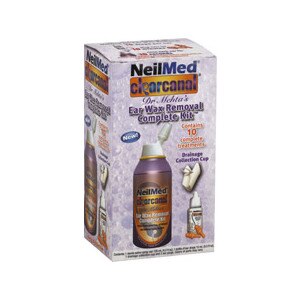 NeilMed Clearcanal Ear Wax Removal Complete Kit
Contains 10 complete treatments. Drainage collection cup. Sterile, preservative free, pH balanced and buffered saline solution. Contents: 1 sterile saline spray can (4.2 fl oz), 1 bottle of ear drops (0.5 fl oz), 1 drainage collection cup and 2 ear plugs. Safe & effective. Dr. Mehta's Rule of 10 Method for Ear Wax Removal. 10 drops per ear. Plug ears for 10 minutes. Rinse each ear for 10 seconds. Dr. Mehta's Ear Wax Removal Complete System. Ear wax is important in preventing dirt and bacteria from causing hearing problems. If there is an excess of wax build up, ear rinsing may be necessary to soften, loosen and wash it out. ISO 13485: 2003 International Accreditation Quality Management System Certified Company. EC. Rep. CE listed. No CFCs. Contains no CFCs which deplete the ozone layer.
ClearCanal Carbamide Peroxide Drops: Active Ingredients: Carbamide Peroxide (6.5%). Inactive Ingredients: Glycerin, Oxyquinoline, Aloe Barbadensis Leaf Juice, Chamomila Recutita (Matricaria) Flower Extract. ClearCanal Saline Spray: USP Grade Water, USP Sodium Chloride (9 mg/ml), USP Sodium Bicarbonate (0.5 to 1.0 mg/ml) to Neutralize pH. No Preservatives.
Please read complete directions before using product. Contains 10 complete treatments. This product is intended for use on adults and children over 12 years of age. Consult your physician for use on children under 12. Tilt head sideways and place 10 drops into each ear canal by squeezing the plastic dropper bottle provided with this system. The tip of bottle should not enter ear canal. Keep drops in ear for 10 minutes by keeping head tilted or placing enclosed ear plugs in ears. It is normal to feel warmth in inner ear. Remove ear plugs. Attach the special drainage collection cup to the canister to avoid the rinse solution dripping out of your ear. Flush ears with the NeilMed ClearCanal specially designed actuator nozzle for 10 seconds or as desired to achieve adequate flushing. Gently tilt head side to side to drain out residual liquid & dry ears with a clean dry towel wrapped on a finger. On rare instances, individuals may experience pressure in the ears. If this occurs, stop rinsing. If symptoms persist please seek medical attention or contact NeilMed directly. Suggested use: Maximum of twice per week, or as recommended by your physician. Recommended storage conditions: store between 41 degrees F (5 degrees C) and 131 degrees F (55 degrees C), out of sunlight and away from heat sources. Avoid freezing. Keep cap on plastic bottle when not in use.
Warnings for ClearCanal: Do not Use: if you have had an allergic reaction to carbamide peroxide or other ingredients in the dropper bottle; if you have ear drainage or discharge, ear pain, irritation, rash in the ear, or are dizzy (Please consult a doctor with concerns); if you have an injury or perforation (hole) of the eardrum or after ear surgery, unless directed by a doctor; do not use more than twice a week. When using this Product: avoid contact with the eyes; keep out of reach of children; if swallowed, get medical help or contact a Poison Control Center immediately; if accidental contact with eyes occurs, flush eyes with water and consult a doctor; system is designed for a single user to reduce the risk of contamination. Do not share with others. Should not be used in the following situations: children under 12 years of age; tubes in the ears; ear infections; current or previously perforated eardrums; recent mastoid surgery. Individuals with the following conditions should not use this product unless directed by a physician: Meniere's Syndrome or those experiencing dizziness, vertigo, impacted ear wax or other ear problems. Please retain the enclosed brochure for instructions and other important information. Other Information: Avoid spraying in eyes; contents in the canister are under pressure, please do not puncture or incinerate.