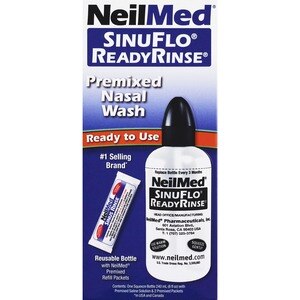 NeilMed SinuFlo Ready Rinse Premixed Solution
Ready to use. Reusable bottle with NeilMed Refill Packets. Contents: One squeeze bottle (8 oz) with premixed saline solution & 2 premixed packets. Use For: Nasal allergies & dryness. Sinus pressure & nasal stuffiness. Nasal symptoms from flu & cold. Nasal irritation from occupational and house dust, fumes, animal dander, grass, pollen and smoke. Post nasal drip & nasal congestion. System Includes: 1 SinuFlo ReadyRinse Bottle (8 oz) with premixed saline solution, 1 Sinus Rinse Nasal Irrigation Black Cap and Tube, 2 Sinus Rinse refill packets. Advantages: Reusable squeeze bottle, using NeilMed Sinus Rinse premixed refill packets. Soothing, no burning or stinging. Single piece custom-designed cap fits any nasal opening. No push and pull cap components for easy cleaning. Iodine and latex free. Excellent cleansing prior to spraying nasal corticosteroids. Smooth flow with easy-squeeze bottle. Empties nearly 95% in upright position. Portable for travel. Money back guarantee (if returned within 90 days from date of purchase). Mold. Pollen. Pet dander. virus. Dust mite. Dust. Natural sinus relief. Now a soothing nasal rinse solution is as easy as 1, 2, 3! CE listed. No CFCs.
Ship & Save:

Ship & Save Eligible
Purified Water, USP Grade Sodium Chloride and Sodium Bicarbonate (Purity Level 99% or Higher) to Make buffered Saline Solution, Benzalkonium Chloride as a Preservative.
Store or keep in a cool & dry place.
Rinsing your nasal passages with only plain water will result in a severe burning sensation. Use lukewarm distilled, filtered or previously boiled water, properly mixed with NeilMed Sinus Rinse packets. Do not rinse if nasal passages are completely blocked or if you have an ear infection or blocked ears. Please do not discard this printed box and any enclosed printed material. The inside final product may not have all the details you require for the ongoing use of the product. Keep out of reach of children.