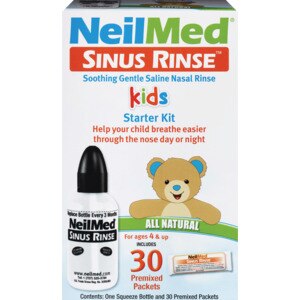 Neilmed Sinus Rinse Pediatric Starter Kit
For soothing saline nasal rinse. For Rapid Natural Relief From: Stuffy, runny nose; Allergies and sinus & cold symptoms. No preservatives. Developed by Dr. Mehta. Patented formula. Let your child breathe easier night & day and get immediate relief with a non-sedating, non-stinging, gentle & easy rinse of congested nasal passages. Believe it or not, your child can do the rinse, it is as easy as washing hands or brushing teeth. Relieves Allergies & Sinus Symptoms: Nasal allergies & dryness; Sinus pressure & nasal stuffiness; Nasal symptoms from flu & cold; Nasal irritation from occupational dust, fumes, animal dander, grass, pollen, smoke, & house dust; Post nasal drip & nasal congestion. Advantages: Soothing, no burning or stinging; Preservative, iodine & latex free; Premixed packets of USP grade sodium chloride & sodium bicarbonate (natural ingredients & 99.9% pure); pH Balanced & isotonic solution; Natural relief from allergies & sinus symptoms; Custom designed cap to fit any nasal opening; Smooth flow with easy-squeeze bottle. Empties 100% in upright position; Great to use after sinus surgery; Travel-size kit. Starter Kit Contains: 1 Custom designed cap; 1 Rinse bottle 140 ml (4 oz); 1 Tube; 25 Packets of USP grade sodium chloride & sodium bicarbonate mixture; Educational brochure; Directions for use.
Store or keep in a cool & dry place.
Do not rinse if nasal passage is completely blocked or if you have an ear infection or blocked ears. If you experience any pressure in the ears, stop the rinse and get further directions from your physician. For non-emergency questions, please contact our office. Please read enclosed brochure for more details.